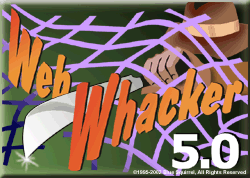 I saw a neat solution at the NJASL Conference last week for people who use Web pages in PPT presentations and are frustrated by slow Internet connections.
WebWhacker
allows you download sections or entire sites that you can use in your presentations. Gives you linking effect without the worry of slow or no Internet connections. It costs about $50, but a neat tool for presenters.


From their site:
Fast and powerful searching of entire web sites with new 5.0 version.
Drag Favorites or URLs to WebWhacker to save them permanently. (NEW 5.0 feature)
Organize web information in folders.
WebWhacker monitors Web sites for changes and updates you on a daily, weekly, or monthly basis.
Save disk space by filtering out useless information from Web pages.
Schedule WebWhacker to download information during off-peak times.
Duplicate the directory structure of a Web site.
Provides you with a list of broken links found on a Web site.