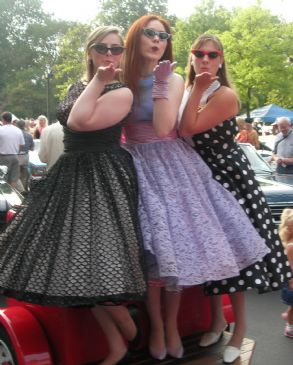 When my oldest sister went to her prom she wore a white organza dress with enough crinoline petticoats to make Annette Funnicello jealous. My second oldest sister wore an empire style dress with her hair piled so high that Marie Antoinette may have thought she had stolen her wig. A few years later my other sister donned a simple peasant style dress with her long hair falling past her shoulders, no makeup and daisies for her corsage. By the time I went to the prom, I was wearing a little yellow number that all of my sisters protested as "way too sexy" for a high school prom dress. Times change and with it so do styles and social norms. A great article in the Little Addictions talks about the new etiquette for technology.
Full article here.
Excerpt:

But all of these mobile, technological gadgets that are so prevalent now -- somehow [people] just get sucked into their own little world of their cell phones, iPods, wireless computers. They're not existing in a society and realizing that their actions affect anyone else."

A poll last year by Pew Research, The Associated Press and AOL (which, like CNN, is owned by Time Warner) found that 81 percent of the people they surveyed were irritated at least occasionally by loud and annoying cell phones in public places. About one in 10 admitted they were the object of criticism or stares because of their own cell phone use. The poll also revealed about a quarter of respondents felt the need to answer their phone even if it interrupts a meal or a meeting.

And it's not just cell phones. A 2006 ABC News poll found that nearly three-quarters of those surveyed had observed someone using a phone or e-mailing and text messaging in midconversation. Another survey of 150 senior business executives revealed that about 86 percent check and reply to e-mails on PDAs such as BlackBerries during meetings, but 31 percent said that it was "never OK" to do so, according to Robert Half Management Resources, a specialized staffing business."I don't know if it's intentional or not, but I think [personal technology] is a way that makes it easier for people to be rude," Ervin says. "If you go to a Broadway show and paid $150 a ticket, you don't want someone talking on their cell phone right behind you."

This rudeness has deteriorated public spaces, according to Lew Friedland, a communications professor at the University of Wisconsin-Madison. He calls the lack of manners a kind of unconscious rudeness, as many people are not aware of what they're doing or the others around them.


Friedland describes the growing use of personal technology in public spaces as a chain reaction. At first, a few people violate the social norms, but as more and more people violate them, the actions become the new norm.

"That's what we're really starting to see now," he says. "It's not that people are just being rude in public and ignoring others, but that the norms themselves are starting to tip."
Libraries are often a great barometer for social norms and we have been struggling with these behaviors for what seems to be ages. While many libraries have looked to create spaces that allow for noises and are actually filled with sounds beyond silence, the perception that libraries are quiet places is still prevalent. Even that new car commercial uses the phrase "library quiet". When I read articles like these I begin to wonder if we shouldn't be utilizing that perception to our advantage to attract adults. "Library Quiet.... a place to get away from it all, even for a half hour while the kids play" Visual- mom reading while the kids are in storytime. Better yet, make it a business person - who couldn't relate to that? Your library... the vacation you don't have time to take. In other words, the idea is to go with the flow and ride the perceptions. I would love to hear about your ideas where you took advantage of exisiting perceptions.